With the workshops I give I learn participants more about innovative fashion design and production, concept thinking through experiments and future perspectives.
On this page you find some examples of the workshops, contact me for a workshop suited to your needs.
Future design
Design thinking
Conceptualizing
Strategy
E-textiles
Digital pattern workshops
Create digital patterns
Design to digital print
Design to lasercut
Innovative production
Smart textiles
Make your own machines
Workshop Examples
Design to digital print and design to laser workshops
During the Fashion Tech Expo 2020 I gave two digital design workshops. If you are interested in one of these subjects, contact me for workshop possibilities.
Workshop 1: Design to digital print with the Epson SF-F500, where designers learn how to make a garment where the print flows over different pattern pieces.
Designers learn how to adjust a garment pattern to the maximum sizes of the sublimation printer. (Ours is a Epson SF-F500 on 61 cm width). Next to that you learn how to place a print in the garment pattern.
We work in Adobe Illustrator, Adobe Photoshop and Adobe Acrobat (pdf reader).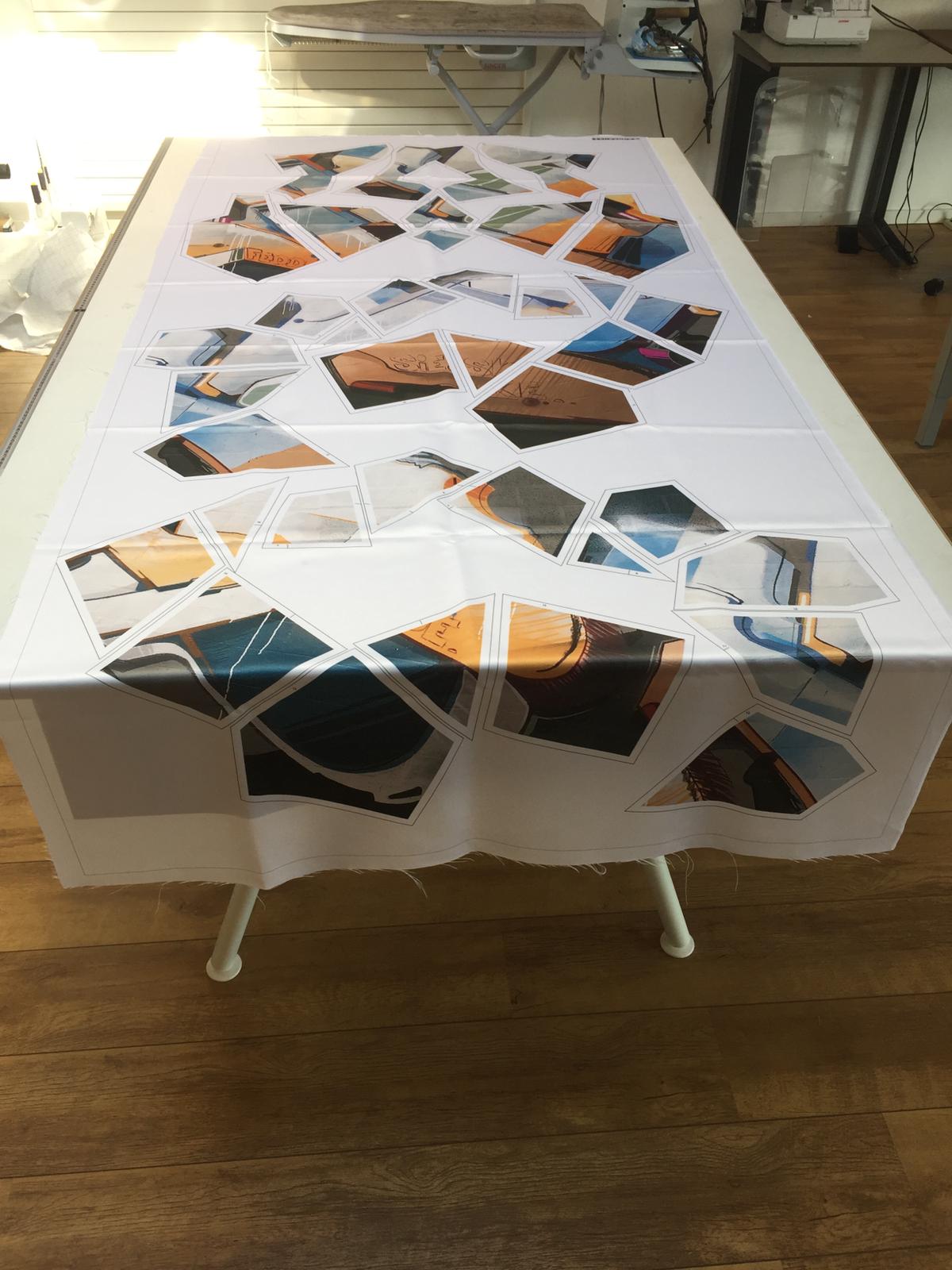 Workshop 2: Design to laser with Big Blue Elephant laser
Designers learn how to digitalize a pattern and prepare the digital garment pattern to the settings of the Big Blue Elephant laser. (Our Big Blue Elephant is 250×130 cm). Next to that you learn how to make use of the cutting and graving possibilities.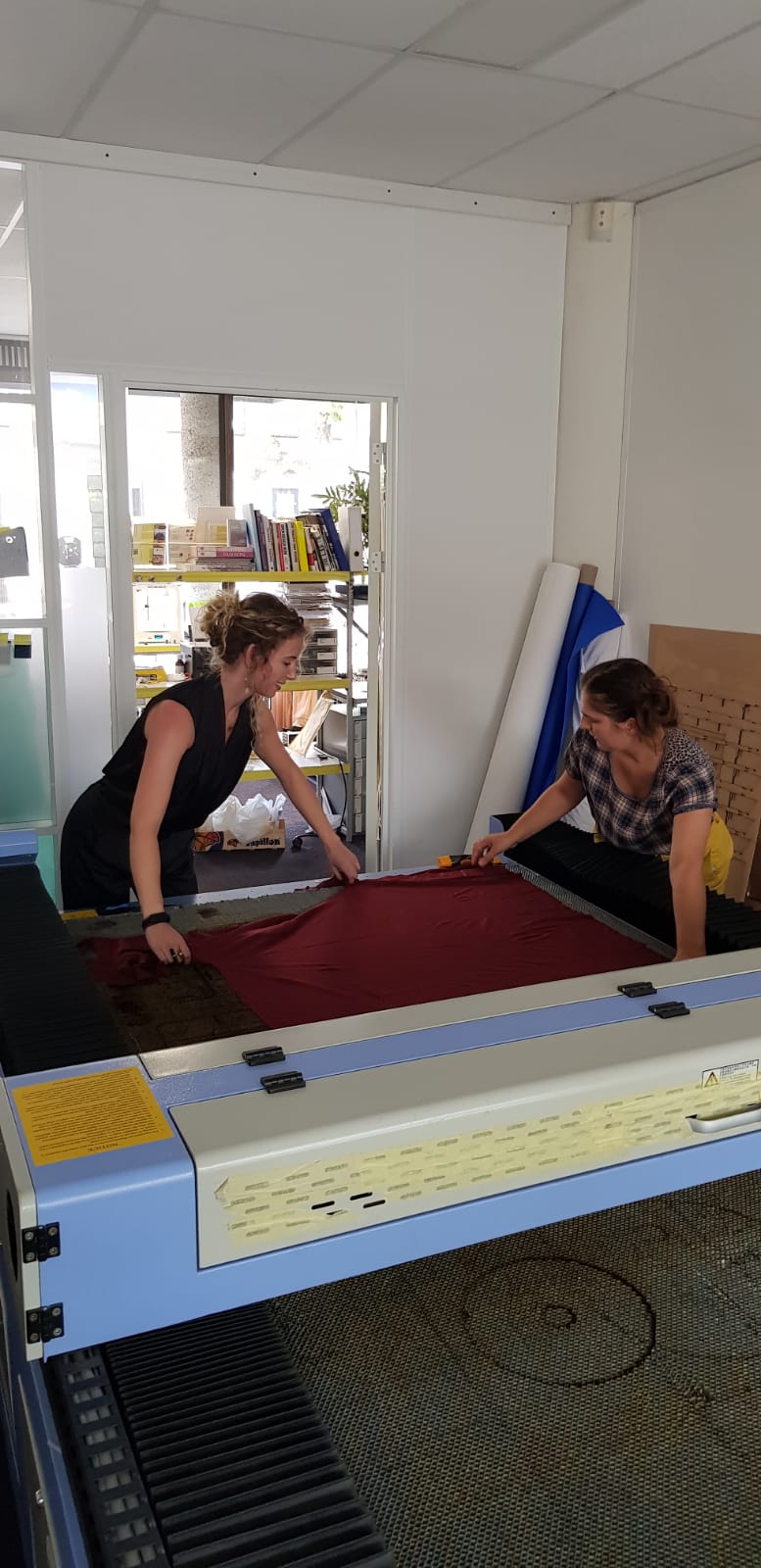 EKA - E-textile workshop
I was asked to do a week long E-textile workshop at the textile department of EKA in Estonia in 2019. A group of BA and MA students learned the basics like making a simple circuit, building and sewing with Arduino and conductive materials, learning to code with Arduino and conceptualizing and presenting their personal projects.
It was nice to see that the students had different perspectives on how E-textiles can work. Their focusses went from functional to visual and from artistic uses to commercial vision.
HKU Smart Textiles workshop
A quick introduction of an hour into smart textiles, where the participants learned the basics of making a circuit and conceptualising and designing a garment that fixes a need that they have.
HKU Fashion and Fiction seminar
In a two week seminar a diverse group of students got into the future of fashion. What do they think the world looks like in 50 years, what kind of garments do they need, what do these garments do and how do we communicate with each other. After conceptualizing their ideas for the future, the students grouped together to make different scenario's come to life. The students created the garments of the future and made movies that showed the context of the world they envisioned and how the garment contributed to this world.
In this seminar I coached the students to make their concept, garment and film coherent to each other. So that every element they showed told their story.
Health meets Fashion
I was one of the designers during the "Health meets Fashion" workshop during Zorg&ICT 2018, where we worked together with proffesionals and patients to conceptualise and design new solutions for (medical)problems that they have. It was great to work on real problems and have insights from different perspectives on the subject.
Summercamp Oosterdok - Smart athletic wear
A two day workshop for kids between 12 and 15 years old to learn something about smart textiles and how to incoporate them in daily life. The first day the kids learned to sew, how to make a simple circuit with a led light and how to create concepts. We challenged them to think out of the box and create a new garment with electronics intergrated. They thought of all kind of tracking, cooling and powering systems that could be usefull in athletic wear. All the kids made garments, drawings that explained how the garment works and presented their products with a photoshoot and a fashionshow.
ZigZag Textile, fibre and felt: it's Smart Child's play
By-wire.net was asked by Waag Society to create four smart-textile workshops for children between 3 and 12 years old. ZigZag was an international festival, so therefore we made very detailed instructables so that these workshops can be done everywhere.
I was responsible of assisting HKU students with creating different workshop and testing them with children. During the festival I helped the children with the Sound Embracer. For some the workshops we focused on using materials that you can find at home and could recycle. Others were focused on the intergration of technology into textile and make it into a functioning product.
My Machine
for 3-6 years old
Light Cuddly
for 6-9 years old
Cable monster
for 6-9 years old
Sound Embracer
for 9-12 years old