Let's make reusable and comfortable protective wear the new standard in healthcare!
Note before playing these video: youtube will give you a cookie when you start the video.
Caring Clothing Tech [CCT] is a collaborative research through design project, powered by a like-minded, skilled team of female technologists, fashion designers and researchers. Through an iterative approach we developed a system for reusable isolation gowns for hospital staff that are protective, user-friendly, comfortable, functional and recyclable.
Our high quality gown reduces the current environmental impact of disposable gowns by over 90%. One locally made reusable gown replaces 400 disposables, which ultimately results in cost savings. We have achieved this impact through effective collaboration with healthcare professionals, a reinvention of the gown silhouette and pattern, and through selecting washable coated textiles and digital production techniques to optimize use and minimize waste.
Each gown is traced by their unique label and can be returned to the user after UV-C disinfection or industrial washing. User tests with the final prototypes in more than 6 Dutch hospitals validates that care personnel feel comfortable and protected with this innovative design.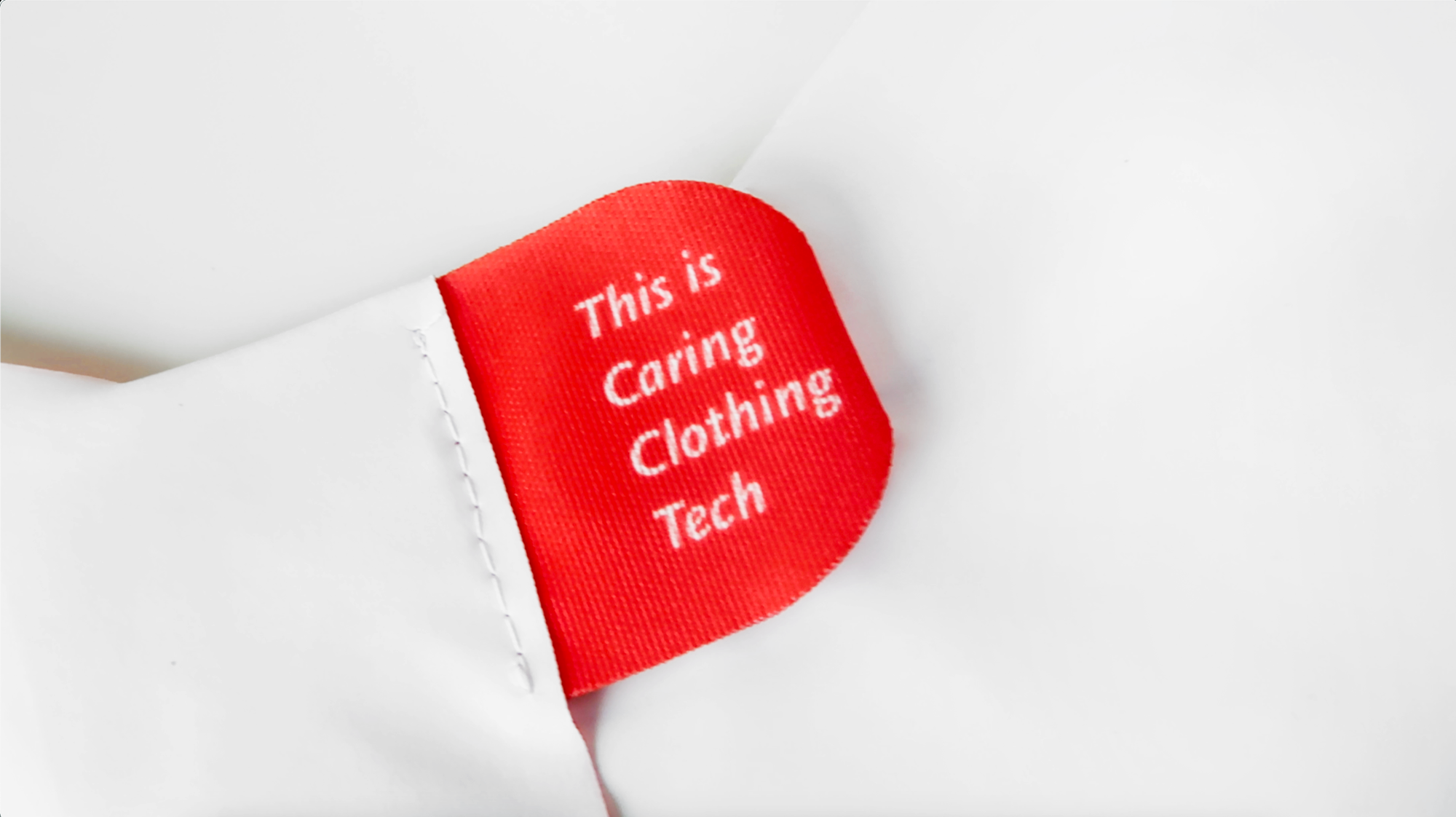 The CCT team is eager to share the rich knowledge developed within this project in the hope of reducing the global burden of PPE waste. Contact us for more info: caringclothingtech@gmail.com
CCT is commissioned by the Ministry of Health, Welfare and Sports, Ministry of Economic Affairs and Climate Policy, and the Netherlands Enterprise Agency.
Based on a survey of 265 healthcare providers, interviews with hospitals and experts, material testing and multiple design cycles, Caring Clothing Tech (CCT) has developed and validated a sustainable alternative to disposable insulation gowns.

Caring Clothing Tech strives to reduce the burden of disposable PPE and improve healthcare provider experience with an alternative gown that is:
Fit for use
Meets EN 14126: klasse 6
No seams in critical zones
Back closure
Optimized for mobility: above the knee
Long sleeves and cuffs designed for glove usage without movement
Easy to don/doff
Magnetic closures
Long waist cord
Comfortable
Stretchable
Tailored sizing with adjustable waist cord
'Silent' fabric
Sustainable
Fully recyclable
Laser cut pattern to reduce off-cuts
Local production to reduce carbon footprint
Viable for UVC disinfecting between use to extend usage
Status
De report is submitted and here available for download: CCT.Eindrapport fase 2 publiek.small (in Dutch). Shoot us an email if you would like to have a high resolution copy.
Want to help?
Currently we are looking for business partners in the care service area to enlarge the impact and eliminate PPE waste as much as possible. Contact us if you are interested in collaborating to tackle this chronic burden together:  caringclothingtech@gmail.com